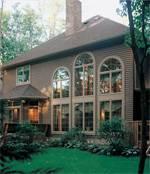 Geometric Shapes
Rounding Out Your Design
All Sunrise Geometric Shape Windows are manufactured with the same look and quality as our picture windows. Now you can confidently create your own unique look!
Full circle
Circle top
Circle top with extended legs
Eyebrow
Eyebrow with extended legs
Octagon
Trapezoid
Pentagon
Quarter round
Triangle
Our signature narrowline window design for maximum glass viewing area
Coved interior glazing bead for traditional design lines
Polyurethane window frame insulation provides added comfort and the ultimate in energy efficiency
Window
Type

Glass
Package

U-Factor

SHGC

Picture

Ultra-U Plus

0.28

.030
This data is accurate as of February 26, 2009. Due to ongoing product changes, updated test results, or new industry standards or requirements, this data may change over time. Ratings are for sizes specified by NFRC for testing and certification. Ratings may vary depending on use of tempered glass, different grid and decorative glass options, glass for high altitudes, and coastal applications.
Jamb depth: 3-1/4"
Mainframe weld: Fusion
Standard Glass: Double-pane clear
Standard Spacer: 7/8" MaxEdge Warm Edge (except some decorative glass options)
Mulled (combined) units: Equal sight lines for uniform look
Insulation: Polyurethane insulated main frames
All windows are custom manufactured on 1/8" increments
At Sunrise, we custom-manufacture every window to fit each home. But the custom styling doesnt stop there. With Sunrise, having the window that reflects your lifestyle and look is simple because of the variety of optional features available.

Insulated Glass (Includes Best Low-E and Ultra-U+Plus Glass)
The Best Low-E Glass Available
Sunrise Windows soft-coat Low-E not only out-performs hard-coat Low-E glass, but most soft-coat Low-E glass as well. It has set an industry standard for being the clearest Low-E glass on the market today. All this while reducing UV light which fades fine fabrics, draperies, and fine art.
All windows ordered with our soft-coat Low-E are filled with Argon gas as standard. Argon is a very heavy and dense gas, which acts like an amplifier to boost the performance of our soft-coat Low-E glass by 20%. Normal air between the panes of glass tends to circulate from hot to cold by rapid movement. The density of Argon gas moves much slower, thereby reducing the heat of summer or cold of winter transferring over to the inside pane of the glass.
Our Exclusive Ultra-U+Plus Glass: "Saving Energy Costs and Adding More Comfort to Your Home" UltraU+ Glass
If youre looking for the best value the insulating glass package with the quickest return on your investment youll like our very own Ultra-U+Plus Glass. Weve taken the power of Low-E technology and nearly doubled it by using 8 layers of coatings paired with argon gas. Ultra-U+Plus Glass insulates better than hard and soft-coat Low-E glass, double-layered, or even triple-paned products.
By reflecting the heat your furnace produces during the winter back into your home, allowing you to save money on heating costs; and in the summer, the suns rays are reflected back to the outside so your house remains cooler. Thats why we call it our "2-way heat reflector" youre saving money all year! It wont take long for your windows to pay for themselves when you choose Ultra-U+Plus Glass.
UltraPlus 12 Insulated Glass: Our Twelve Layers Make the Difference UltraPlus 12
Sunrise Windows introduces our exclusive UltraPlus 12 Glass System that will save you more money and achieve higher performance levels than other types of Low-E Glass windows on the market today. UltraPlus 12 reflects the heat from your furnace back into your home in the wintertime, blocks out the heat from the sun in the summertime, and filters out damaging Ultraviolet Rays that cause fading of furniture, carpet and
wall coverings.
The secret? Our exclusive 12 layer coating structure makes the difference. Competitive window brands utilize either single layer or double layer Low-E coating structures, but Sunrise UltraPlus 12 High Performance Glass System incorporates twelve layers of heat reflective metallic shields sputtered into the window glass. These extra energy savings layers are what combine to make to make UltraPlus 12 the product that will keep your home warmer in the wintertime and cooler in the summertime.
SolarClean Self-Cleaning Glass
Sunrise Windows with SolarClean self-cleaning glass combines the latest technologies that allow the suns ultraviolet rays and the sheeting characteristics of the glass to break down the adhesion of dirt and debris from the glass, while rain or a light water spray rinses it away. SolarClean offers minimal maintenance due to less spotting and streaking and best of all, its guaranteed for life.
Simulated Divided Lites Simulated Divided Lites
Instead of grids between the glass, choose Simulated Divided Lites to maintain your homes classic character. Have all the advantages of premium-performing windows with thermally-efficient insulating glass, plus the timeless beauty of grids on both the interior and exterior panes of glass. Simulated Divided Lites are available in all of Sunrises color combinations.
Divide & Conquer: Using Grids to Frame Your View
Theres just something elegant about a window with grids (also called grilles or muntins). Its that extra detail that sets them apart from a blank window. And Sunrise offers you 4 distinct styles of grids for you to choose Standard Colonial, Georgian Colonial (available in solid colors or 2-tone colors with matching interiors/exteriors), Standard Diamond, and Brass Pencil Colonial.
Go Back