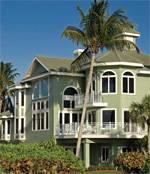 Coastal Windows
Windows are crucial when it comes to protecting your home.
Once the building envelope has been breached through a broken window, wind may enter the building, increase pressure on the roof, blowing it off your house. Partial or total structural failure may occur, leading to extensive water damage.






Double Hung
Quadruple weather-stripping provides remarkable air tightness, reducing heating and air conditioning costs
Double-wall glazing bead design constitutes a key security feature, allowing the window to withstand 220 mph winds
Fusion-welded corners seal out water and wind and add strength
Sash double walls boost energy efficiency and strength
Reinforced interlock
7/8" overall glass thickness
Casement
Triple weather-stripping provides remarkable air tightness, reducing heating and air conditioning costs
Double-wall glazing bead design constitutes a key security feature, allowing the window to withstand 220 mph winds
Sturdy frame and sash do not require steel reinforcement
7/8" overall glass thickness
Coastal Impact Windows are not only storm protectors but they can add beauty to your home as well. Choose from different window frame colors, glass options, and internal grid options.
Insulated Glass
The Best Low-E Glass Available
Sunrise Windows' soft-coat Low-E not only out-performs hard-coat Low-E glass, but most soft-coat Low-E glass as well. It has set an industry standard for being the clearest Low-E glass on the market today. All this while reducing UV light which fades fine fabrics, draperies, and fine art.
All windows ordered with our soft-coat Low-E are filled with Argon gas as standard. Argon is a very heavy and dense gas, which acts like an amplifier to boost the performance of our soft-coat Low-E glass by 20%. Normal air between the panes of glass tends to circulate from hot to cold by rapid movement. The density of Argon gas move much slower, thereby reducing the heat of summer or cold of winter transferring over to the inside pane of the glass.
Laminated Glass for Clear Benefits
Lamination is required to prevent glass from shattering upon impact and keep windows intact. Our products are laminated on the inside, preventing the home and its occupants from being showered with shattered glass if the outside layer is struck.
Impact-resistant laminated glass also delivers a host of other benefits:
Provides increased resistance to forced entry, reducing theft and vandalism
Blocks more UV rays, reducing discoloration of furniture and floors exposed to direct sunlight
Offers exceptional soundproofing by dampening sound vibrations, providing homeowners with a quiet and peaceful environment
UltraPlus 12 Insulated Glass: Our Twelve Layers Make the Difference
Sunrise Windows introduces our exclusive UltraPlus 12 Glass System that will save you more money and achieve higher performance levels than other types of Low-E Glass windows on the market today. UltraPlus 12 reflects the heat from your furnace back into your home in the wintertime, blocks out the heat from the sun in the summertime, and filters out damaging Ultraviolet Rays that cause fading of furniture, carpet and wall coverings.
The secret? Our exclusive 12 layer coating structure makes the difference. Competitive window brands utilize either single layer or double layer Low-E coating structures, but Sunrise UltraPlus 12 High Performance Glass System incorporates twelve layers of heat reflective metallic shields sputtered into the window glass. These extra energy savings layers are what combine to make to make UltraPlus 12 the product that will keep your home warmer in the wintertime and cooler in the summertime.
Stainless Steel Spacer System
Modern double pane sealed insulated glass units were created over 50 years ago and, over that time, the materials to make insulated glass have steadily evolved so that units could be made to last longer and insulate better. Our spacer system, provides the best value and thermal performance in windows, and is the exclusive spacer system used in the construction of Coastal Impact 780 Windows.
Grids Between the Glass
Standard Colonial grids are available in various patterns, and, best of all, the grids are contained in the airtight space between the panes of glass so you dont have to dust them!
Vinyl Colors: Express Your Style
Coastal Impact 780 Windows are available in two colors to complement any decor: White and Tan.
Go Back